New Phone Systems Installation
NEC Phone System Self Installation Facts
Do It Your-Self Installation
EZ Phone systems offers services by phone to help with your NEC Phone System Installation. A do-it-your-selfer can perform an NEC installation with the NEC EZ Installation cable connector kit provided. Please follow these instructions as well as your installation guide which your received with your NEC phone system starter kit.
Do-it-yourself installation. The NEC EZ Installation cable connector kit makes installing the NEC phone system a breeze. Click on the link on the right side of the page for an exploded view of the NEC EZ Installation cable connector kit. After you have followed the instructions on this page and in the NEC installation manuals you have received with your phone system, your phone system will be ready to power up. All NEC systems are plug and play. You will be ready to send and receive phone calls once the phone system is installed.
NOTE: 1 pair of wires is required on all incoming phone lines and phone extensions. A 66 Block termination punch down tool is also required for installation.
Punch down the appropriate pair of wires for each terminal. For example, the 300R & 300T terminals are the terminals for the first phone extension which is extension 300, and the Line 1R and the Line 1T terminals are for the first incoming telco line witch is Line 1.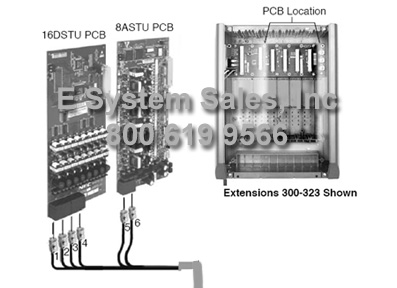 RJ61X

25 Pair Cable

Block Term

Color Code

Function

Cable
1

1
2
3
4
5
6
7
8

White-Blue
Blue-White
White-Orange
Orange-White
White-Green
Green-White
White-Brown
Brown-White

300 T
300 R
301 T
301 R
302 T
302 R
303 T
303 R

Cable
2

9
10
11
12
13
14
15
16

White-Slate
Slate-White
Red-Blue
Blue-Red
Red-Orange
Orange-Red
Red-Green
Green-Red

304 T
304 R
305 T
305 R
306 T
306 R
307 T
307 R

Cable
3

17
18
19
20
21
22
23
24

Red-Brown
Brown-Red
Red-Slate
Slate-Red
Black-Blue
Blue-Black
Black-Orange
Orange-Black

308 T
308 R
309 T
309 R
310 T
310 R
311 T
311 R

Cable
4

25
26
27
28
29
30
31
32

Black-Green
Green-Black
Black-Brown
Brown-Black
Black-Slate
Slate-Black
Yellow-Blue
Blue-Yellow

312 T
312 R
313 T
313 R
314 T
314 R
315 T
315 R

Cable
5

33
34
35
36
37
38
39
40

Yellow-Orange
Orange-Yellow
Yellow-Green
Green-Yellow
Yellow-Brown
Brown-Yellow
Yellow-Slate
Slate-Yellow

Line 1T
Line 1R
Line 2T
Line 2R
Line 3T
Line 3R
Line 4T
Line 4R

Cable
6

41
42
43
44
45
46
47
48

Violet-Blue
Blue-Violet
Violet-Orange
Orange-Violet
Violet-Green
Green-Violet
Violet-Brown
Brown-Violet

Line 5T
Line 5R
Line 6T
Line 6R
Line 7T
Line 7R
Line 8T
Line 8R

49
50

Violet-Slate
Slate-Violet

NC
NC

The above diagram is a schematic view of the telco 66 Block provided in the installation kit. Click here for a exploded view of a 66-Block. The installer will notice that there are 2 empty terminals on the bottom of the 66 Block. That is normal.
PC Admin programming is also available for programming the NEC phone system through a Windows based Personal Computer. A Windows 2000 or XP PC Computer with an available USB or Ethernet port, PC Admin cable, and Windows computer skills are required to perform phone system programming.